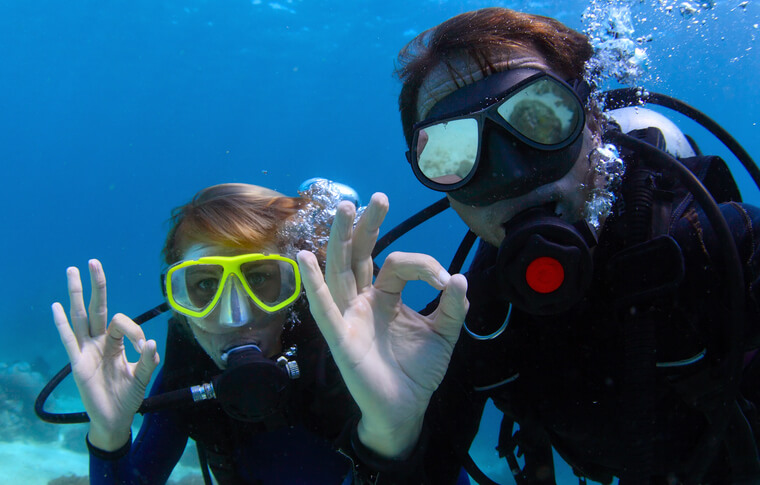 Hi folks, Dianne here! I want to talk to you about the best places to dive in Fiji because it's one of the tropical island getaway's most popular and spectacular activities. Known as the "Soft Coral Capital of the World," Fiji has world-class scuba diving amongst colorful reefs with tropical fish and sharks and wrecks. With so many options, there are various sites to suit everyone, from uncertified beginners to the most advanced certified divers.
If diving is essential to you, then it's crucial to know where the best dive sites are in Fiji before you book. With over 330 islands in Fiji, getting around can be difficult. That means you'll want to stay near your preferred dive site.
This blog will describe the three central regions for diving in Fiji. However, don't fret if you're staying somewhere else. Diving is so popular in Fiji that you can find fun dives almost anywhere. The ones listed here are just the best of the best!
Dive in the Somosomo Strait Fiji:
Most folks who travel to Fiji for diving go straight to Somosomo Strait. Located in the North between Vanua Levu and Taveuni islands, this watery passage is where you'll find Fiji's most famous dives and dive resorts. Though they're not directly on the strait, you'll also find resorts that offer day trips to this area on the islands of Matangi, Qamea, and Laucala.
Two key dive locations in Somosomo Strait are Rainbow Reef and the Great White Wall, which are best for slightly more experienced divers comfortable with drift dives.
This part of Fiji is also known for having Fiji's best rainforest, authentic Fijian culture, and high-end luxury. While most dive-centric resorts are pretty basic and budget-friendly, several 4 and 5 star resorts nearby offer excellent dining and resort comfort. To reach this region, you must travel by plane to one of two domestic airports — Savusavu or Taveuni.
Diving in Beqa Lagoon: 
Beqa Lagoon is located south of Fiji's main island and has a variety of dives, including Fiji's most well-known shark dive location. It's accessible by air from Nadi International Airport and by boat from Pacific Harbour on the main island.
Those seeking Fiji's most impressive dives are probably better off heading to northern Fiji around Somosomo Strait or the Great Sea Reef. However, those who want somewhere more easily accessible from the international airport, without traveling so far, are best suited to Beqa Lagoon.
Our favorite accommodations around here are at a small five-star private-island resort, well known for its romantic feel. If your budget is more modest, then consider staying on the main island of Viti Levu and coming to Beqa Lagoon as a day trip.
Dive the Great Sea Reef :
 Here's our favorite hidden gem in all of Fiji, as far as diving is concerned. Located in far, far northern Fiji off the island of Viti Levu is the world's third longest barrier reef, containing 74% of the known coral species and 80% of the known coral reef fishes recorded in Fiji (World Wildlife Fund.) Remote, pristine, and beautiful, the Great Sea Reef reminds you of what the world's reefs might have looked like to early divers before tourists swarmed all the best dive sites.
It's not easy to reach the Great Sea Reef, but it's well worth it. Fly into the domestic airport of Labasa or Savusavu, which is slightly farther. Then stay in a 4-star private island resort on the edge of the earth. Take day trips to go diving and revel in the untouched nooks and crannies of the Great Sea Reef.
How do I book a Dive Vacation in Fiji?
Ready to go diving in Fiji? We can handle all the details to ensure you stay in the place that's most suited to your interests. Contact us, your travel experts for the South Pacific, to start planning your trip today!