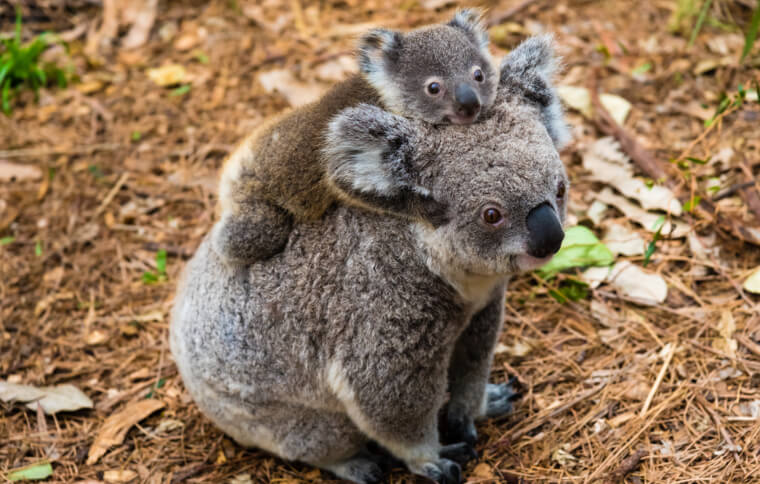 Where can I see Koalas and Kangaroos?
Everyone visiting Australia wants to see our unique, cute, furry wildlife, especially Koalas and Kangaroos. So in this blog post, I'll tell you a bit more about these iconic Australian creatures and where you can see Koalas and Kangaroos on your Australia vacation. After all, not all wildlife experiences in Australia are made equal! Depending on where you go and what you want to do there, you can experience these Australian animals in several different ways.
What are Koalas and Kangaroos in Australia?
Is a Koala a bear?
Koalas bears aren't bears — just like kangaroos aren't rabbits. They're both marsupials, which means they're mammals who carry their young in a pouch on the front of their bodies. In Australia, they are just known as Koalas, and their diet consists of Eucalypt (Eucalyptus leaves) and other tree-related species.
More than any other country, Australia has over 200 different species of marsupials, including wombats and Tasmanian devils, Quokkas, and Possums. However, we'll discuss the koala and kangaroo here because they're two of Australia's most well-known and popular animals.
Where in Australia can I find Koalas and Kangaroos in the wild?
You can either see koalas and kangaroos in their natural habitat or in a wildlife park (which is like a zoo but tends to have rescued animals in a more open setting).
For animals in the wild, your best bet is Kangaroo Island. This is a large island about the size of Puerto Rico that lies off the southern coast of Adelaide in South Australia. True to its name, Kangaroo Island is chock full of Australian wildlife and offers the best chance of spotting koalas, kangaroos, and many other Australian marsupials.
We recommend spending one or two full days on Kangaroo Island for the most fulfilling experience. Hire an expert guide and driver so you're privy to all the best locations to find these animals in Australia.  Your guide could take you to a meadow filled with bouncing kangaroos. Or, maybe they'll stop on the side of the road so you can stand under a eucalyptus tree to watch a curled-up koala sleeping.
If your schedule or budget doesn't allow a trip to Kangaroo Island, you could also consider doing a day tour from Sydney, New South Wales, to the Blue Mountains or on the Great Ocean Road outside Melbourne through the Cape Otway National Park.  Head out from the city to the hinterlands with a specialist guide to show you the hidden pockets like the Kennett River Koala Walk, formerly known as Grey River Road, where wild koalas can be found. However, there are no guarantees of seeing Koalas in the wild — remember, wild animals don't always stick to the schedule!
Remember that you won't be able to hold any Australian animals you find in the wild. Being wild animals, it's neither safe for you nor for them to try and catch or hold them.
Where in Australia can I touch or hold a Koala and Kangaroo?
If getting up close and personal with Australian wildlife is essential, you won't be satisfied viewing wild animals from a distance. Instead, you'll want to go to a wildlife sanctuary like Australia Zoo in Queensland or the Lone Pine Koala Sanctuary in Brisbane, where you will see abundant animals in Australia.
Most wildlife parks only allow you to stand next to a koala, so for touching or holding a koala, go to a state that allows it by law. The states of Queensland (including Port Douglas, Hamilton Island, and Brisbane) and Western Australia (outside Perth) all have options for holding a koala. You can expect to hold one briefly, just long enough for a photo, not long enough for an extended snuggle session. Note that if the Koala is not feeling up to being held, they are not forced to do so.
By contrast, you can touch a kangaroo at most wildlife parks nationwide, regardless of the state. Wildlife parks in all states have options for touching and feeding kangaroos in captivity. You can buy a bag of food and hand-feed them. Just remember that if there were many tourists that day, they might not be hungry!
Can I find Kangaroos pretty much anywhere?
Well, sort of. Kangaroos are so numerous that you can find them in the wild almost anywhere, and there are different species of Kangaroo, from the Red Kangaroo (Fun Fact… The Red Kangaroos are the Largest and can have tails up to 1 metre!) to the Eastern Grey Kangaroo. Just keep your eyes open and watch open fields, even at golf courses, where you could find them grazing.
You could also see them while driving, especially at dusk and dawn in rural areas when kangaroos love to go for a wander. Drive carefully. During the day, kangaroos tend to lie under a tree for shade. They may come to the roadside looking for water if it's rainy.
While there are kangaroos in most rural areas, the only way to guarantee to spot one in the wild is to hire a guide on Kangaroo Island or outside Melbourne, especially if you want an expert to show you where you're most likely to find them.
For many travelers, a wildlife park is their best bet for an experience with Australian animals, including those cute koalas and kangaroos. Many tour companies include a stopover at a wildlife park as part of a more extensive day tour. So if you want this experience, just let us know so we can choose a suitable tour for you to see the animals of Australia.
Is it safe to touch a Kangaroo?
Being wild, it's not safe to approach these kangaroos. They can quickly attack with their hind legs. So best to keep a safe distance. Wild Kangaroos are also very nervous, so if you see some, watch from a safe distance and be quiet because as soon as you make a noise or move, they will jump away – which is often quite amusing to watch when there are many of them! Only touch them at an Australian Zoo or Wildlife Park if available for your safety.
Are you ready to go to the home of two of the world's strangest creatures? Then contact us today to plan your trip to Australia. We'll ask questions about what sort of experience you seek and send you wherever suits your interests on your customized itinerary.
What are other popular Australian animals aside from koalas and kangaroos?
Australia is known for its diverse range of unique and fascinating animals. In addition to kangaroos and koalas, here are some other popular Australian animals:
Emu: The emu is the second-largest bird in the world and is native to Australia. It is known for its long neck, powerful legs, and distinctive feathers.
Platypus: The platypus is a fascinating and unusual mammal found in eastern Australia. It has a duck-like bill, a beaver-like tail, and webbed feet, making it one of the few mammals that lay eggs. They are best viewed on a tour as the guides know their location.
Wombat: Wombats are sturdy, burrow-dwelling marsupials. They have a stocky build and strong claws and are known for their ability to dig complex tunnels. They are very cute!
Tasmanian Devil: The Tasmanian devil is a carnivorous marsupial found in Tasmania. It has a stocky build, powerful jaws, and is known for its fierce temperament and loud screeching calls.
Quokka: Quokkas are small marsupials that are found mainly in Western Australia. They are known for their friendly and photogenic nature, often called the "happiest animal on Earth." Ensure you visit my home city (Perth) and head to Rottnest (Rotto) Island. It is a very easy day trip from Perth.
Kookaburra: Kookaburras are iconic Australian birds with a distinct call that sounds like laughter. They are known for their large beaks and beautiful plumage and are often found perched on branches or utility wires. They are often heard early in the morning.
Tasmanian Tiger (Thylacine): Although considered extinct, the Tasmanian tiger was a unique marsupial carnivore once found in Tasmania and mainland Australia. It had a dog-like appearance with distinctive stripes across its lower back.
Cockatoo: Cockatoos (Cockies) are large and colorful parrots native to Australia. They are known for their crests, curved beaks, and ability to mimic human speech. They are also every Aussies nightmare for destroying their beautiful gardens.
Echidna: Echidnas, also known as spiny anteaters, are monotremes like the platypus. They have spiky fur, long snouts, and sticky tongues used to catch ants and termites.
Saltwater Crocodile: The saltwater (Salty) crocodile, also known as the estuarine crocodile, is the largest living reptile found in Australia's northern regions. It is a formidable predator known for its ability to live in salt and freshwater environments.
Emu: The emu is the second-largest bird in the world and is native to Australia. It is known for its long neck, powerful legs, and distinctive feathers.
We hope you enjoyed this post on the animals you might find in Australia!
Let's get started!