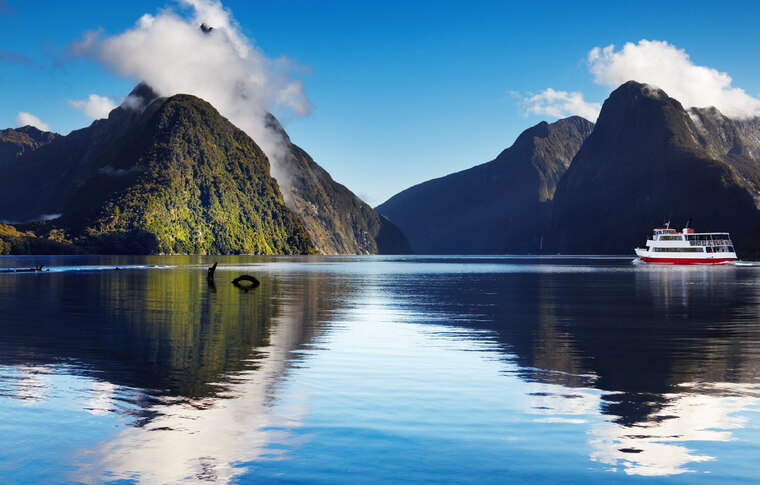 G'day, Dianne here from Go Walkabout Travel, your travel expert for Australia and New Zealand. Many of my clients traveling to New Zealand ask me about Milford Sound and Doubtful Sound in New Zealand. They want to know the best way to visit Milford and Doubtful Sound and what unique experiences I recommend.
Where is Milford Sound located?
In the remote southwest of New Zealand's South Island, Milford Sound is part of the  Fiordland National Park, the largest national park in New Zealand. It's a fjord, not a sound. Fjords are deep; jagged waterways carved out by glaciers. Their edges are steep, so cliffs often drop straight down into the water, and waterfalls often fall over these cliffs. Sounds are more like drowned valleys — the walls are not as steep, and the waterways are usually more expansive than fjords. However, once Milford Sound and other fjords in Fiordland National Park were named, those names stuck.
For decades, Milford Sound has been one of the most popular tourist attractions in New Zealand. National Geographic dubbed the multi-day hike here, the Milford Track, the "finest in the world." Rudyard Kipling called Milford Sound "the eighth wonder of the world." A survey by TripAdvisor awarded Milford Sound the top Travelers' Choice Destination Award in 2008.
I'm here to tell you that although Milford Sound deserves all of that fame for its dramatic landscape, impressive waterfalls, and unusual ecosystem, it's not the only place in New Zealand to experience these natural wonders. There are, in fact, lots of other fjords in Fiordland National Park other than Milford Sound.
How do I get to Milford Sound?
If you wish to visit the famous Milford Sound, the best way is by overnight or day cruise.  You can self-drive from Queenstown, but it is a very long day! Or the better option is to join a small group tour departing from Queenstown or overnighting in Te Anau and join a guided tour from there, closer to the cruise departure point. You can also fly in on a fixed-wing aircraft or even a helicopter, subject to the weather!
Where is Doubtful Sound?
My favorite is Doubtful Sound, which has the same scenery as Milford Sound but doesn't have crowds.
Unlike Milford Sound, no one lives at Doubtful Sound. There are no hotels, shops, or cafes to spoil the gorgeous New Zealand landscape. There isn't even public road access to Doubtful Sound — no parking lots for carloads of RVs, caravans, or buses.
Doubtful Sound is between three and ten times larger than Milford Sound, depending on how you measure it. Each boat can find a private cove, waterfall, or mooring away from the rest. At Doubtful Sound, you can immerse yourself in the scenery that made New Zealand famous. The best moment of any cruise on Doubtful Sound is when they turn off the boat's motors, and you literally hear "the sound of silence."
Since civilization is farther from Doubtful Sound, you're more likely to see marine life there — some of which can only be found in Fiordland National Park and nowhere else. There are three species of dolphins (Dusky Dolphin, Hectors Dolphin, and occasionally Bottlenose Dolphin) and New Zealand fur seals. You may also be lucky enough to see Little Blue Penguins, Fiordland Crested Penguins (one of the rarest in the world), Southern Right Whales, and Humpback Whales can all be found at Doubtful Sound.
How do you get to Doubtful Sound in New Zealand?
How do you get there if Doubtful Sound is so remote and hard to reach? My favorite way to visit Doubtful Sound is on an overnight cruise, where you have enough time to experience nature in utmost comfort. At Go WalkAbout Travel, we have a close relationship with a small boat cruise operator that takes only ten people at a time. Being on a boat this size ensures personal attention for each passenger and keeps the itinerary relaxed, able to customize per the interests of each guest on board.
Begin your adventure with an overnight in Te Anau, about a 2-hour drive south of Queenstown and closer to the cruise departure point for both Doubtful and Milford Sounds. From Te Anau, you'll have a short drive to Lake Manapouri, where the tour begins. Ride on a water taxi across this large glacial lake to the opposite side, where a vehicle picks you up and takes you on a short private road over Wilmot Pass in the dramatic Southern Alpine mountain range. Board the cruise at Deep Cove in Doubtful Sound, and embark on an enchanting trip around and through the fjord for almost a full 24 hours.
Shorter one-day tours to Doubtful Sound are also available from Te Anau and Queenstown. Whether you choose Doubtful or Milford Sound, I recommend bookending your trip with a night in Te Anau instead of Queenstown since it's so much closer and makes the journey shorter and more accessible.
By visiting Doubtful Sound, you spend less time on the road and more time in the nature of New Zealand than if you went to Milford Sound. You also experience more of what makes New Zealand so famous — the scenery, not the touristy shops!
To learn more about visiting Doubtful Sound or Milford Sound and the rest of New Zealand, contact your travel agent specializing in New Zealand today!