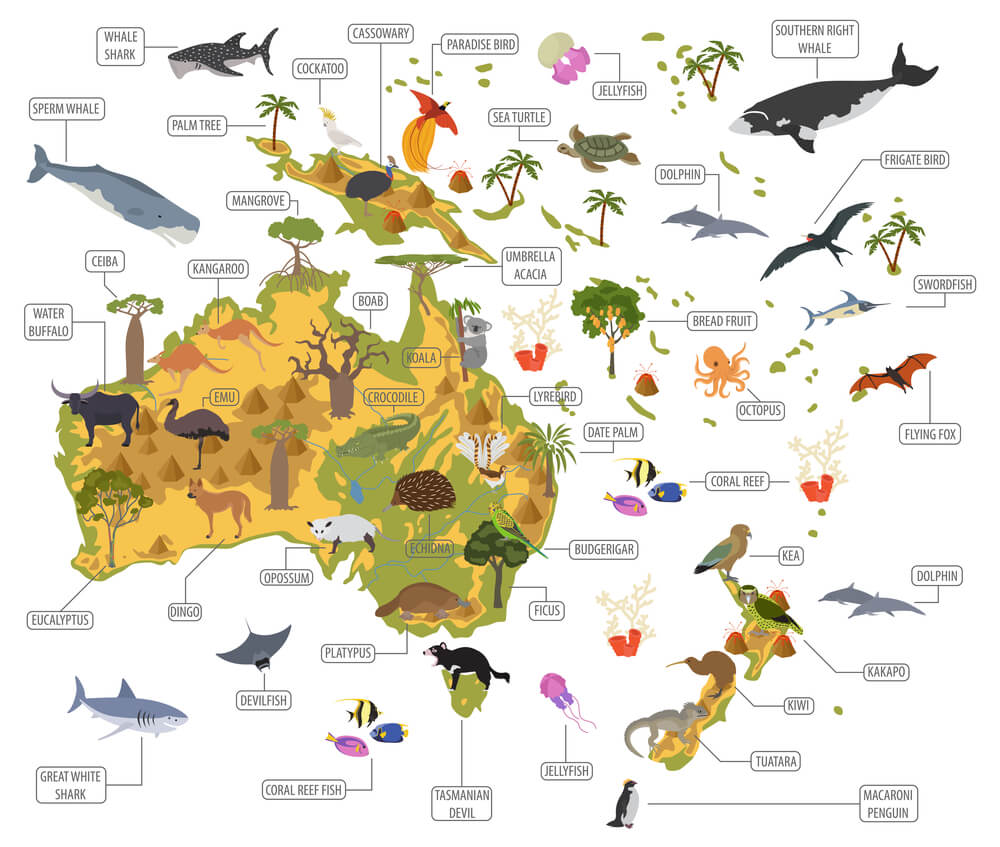 G'day, Folks,
We get so many questions about Travel to Australia and New Zealand that we thought we would share a few of them 🙂
When is the best time to go to New Zealand?
This really depends on what you like to do. If you like to ski then going in the Winter months makes sense (Jun-Jul-August). If you are like most people and wish to avoid any sign of cold then in my eyes you usually can not go wrong with going in "Fall" to New Zealand. Remember Summer in the South Pacific starts on the 01st Dec, so planning your trip around the end of Feb into March and even into the very early part of April may work for you. Jan and Feb are usually the busiest months in this area. The same thing goes for the Oct/Nov time frame if you would rather go at the end of the year. Remember New Zealand is way South so it takes longer for the warmer weather to arrive!
Should we self-drive in Australia?
Remember that Australia is the same size as the mainland USA. Self-driving is the way to go in New Zealand due to it not having as much access to public transport and you needing a car to get into places worth seeing. Australia is the total opposite. Because we are so big you can often find yourself just on a major highway between areas and not really seeing much of anything. Fuel is expensive and parking is very nasty, especially in big cities. You also need to remember that we have the "wet season" in Australia which runs anywhere from Nov to May. This means if you are driving up the coast of Queensland to the Barrier Reef and it rains you may find yourself blocked in by the flash floods. It does not take much for torrential rain to happen and the creek beds to back up. Many people have been stranded and if you are on a timeline to get to the next place for your next flight you may find yourself truly stuck for quite a few days if not longer. Domestic flights within Australia are quite reasonable in price and it is best to fly between places and then rent a car for a day if you truly want one. Paying for parking and driving in any major city is nasty and will just leave you very stressed. You are also not allowed to take any hire vehicles offroad over in Australia, so you may miss out on seeing places if you do not do a small group guided tour. There is no point in going to see something if you do not know the history or what it is about!
When is the best time to visit Australia?
There is no such thing as a perfect time when it comes to my home country. When it is the best time to be up in the Barrier Reef it is the worst time to actually be in the southern areas like Sydney and Melbourne. As mentioned above the northern parts of Australia have a wet season. This means a cyclone may come through and there can be tropical rain and it is very humid and sticky, and the stinger nets are in the water for the box jellyfish. Because of this many tour operators close down during the wet season and many other companies do their work on their vehicles, boats, etc. There are still companies operating but you need to remember that everything is always subject to change due to the weather. If you truly wanted to see the Barrier Reef and the southern areas of Australia I would say the "best" time (which is never guaranteed) is actually around October. Remember like the rest of the world Australia's weather has been a tad crazy. So there is never any guarantee!
How hot is Australia in Summer?
If Aussies complain about the heat then you will as well! Simple things like putting your seat belt on or opening the car door may scorch your hand on a really hot day. Walking on the beach sand barefooted can be very painful and do not even try on the pavement! Laying out in the sun is just ridiculous even if it is an overcast day (which is the worst) you will end up like a lobster very quickly. Now that was just for the southern areas of Australia. The north is a totally different kettle of fish. Remember tropical rain, bugs, humidity in which after you have had a shower you still feel sticky, and always being thirsty. That being said (my blunt Aussie honesty) if the only time you can visit us is in the smack bang middle of summer Dec-Jan-Feb then do not let those things deter you. Just like North Americans survive through the winter we do so with our Summer! We have a saying here in Australia called Slip, Slop Slap (a 1980's Cancer Council Campaign which has stayed around forever with us Aussies)
Slip on a shirt.
Slop on some sunscreen.
Slap on a hat.
How long should I travel to Australia and New Zealand?
Please do not try and do both countries in 2 weeks. You are best choosing one country and actually trying to enjoy it instead. For New Zealand, I usually recommend from 18-24 days if you want to see both Islands. For Australia, it really depends on what areas you truly wish to see! If you just wanted to do  Adelaide-Melbourne-Tasmania-Sydney and The Great Barrier Reef regions then about 3 weeks as well. If you wanted to get into the middle to Ayers Rock or across to Perth then, of course, you need longer. Remember this is without driving as well. In order to get a great overview of the areas, you are best to fly between them and spend more time in the places that are worth seeing. If you truly wanted to drive between Sydney and Cairns (Barrier Reef) then allow yourself 2 weeks to enjoy it at the minimum.
Are Australia and New Zealand expensive?
Since Covid like most places, the prices have increased… from food to fuel! This means when vacationing in Australia and New Zealand that you should think wisely about where you wish to stay. We prefer to book our clients in Apartment stays if possible. This allows them to actually go to the nearest grocery store or markets and stock up. Whilst Apartments may initially look more expensive than the 3-star hotel- when you do the math you will still come out way ahead if you do some cooking in them instead of eating out all the time. The other benefit of small group touring is usually your lunch is included. This means you could have your toast or cereal in the morning a really good lunch on tour and then a light dinner. You are best staying in apartments and allowing yourself the experience of going out on some special tours then spending all your money just dining out all the time. Also, remember tipping is not expected down here and GST is already included in the price. The price you see on a menu is the price you pay.
Are there really that many creepy crawlies in Australia and will one of them get me?
Seriously! You have more chance of slipping on ice in Canada or the US than getting bitten by a Spider (unless you are very unlucky). Yes, we have bugs especially in Summer and in some of the remote areas but they are just bugs :). The most annoying thing in my eyes is the flies. We do not have Bears and most other things are just as scared of you as you are of them. When walking in the bush just make sure you shake your keys and make some noise if you are too worried. Of course, we always check inside our shoes (if they have been outside before we put them on) and shake any clothes that may have been laying on the floor. But other than that as mentioned you really would have to be unlucky if you take precautions.
Will things be cheaper if I book them myself?
Maybe… Maybe not! But if you are solely looking at your trip in terms of the dollar cost when you travel to Australia and New Zealand then you will probably have a not-so-good time! You see a trip should be about an "experience" if you choose to do a tour just because of the actual cost then it may turn out to be awful because it may have not been the right tour for your wants and needs. There is so much that comes into designing a trip somewhere special and why you would gamble your hard-earned money by trying to do it yourself is beyond me. You also need to remember that we are there if you have problems. We have a 24-hour emergency number in all the countries we book. Plus if you get stranded then we have the know-how and contacts to help. When the Earthquakes hit New Zealand our clients were re-routed and looked after free of charge before they even knew what was happening. If you had booked your trip yourself and a major disaster happened then you would be totally stuck trying to find a phone line, maybe not having any power to even get on the internet and having no clue what to do. It is a scary place to be! Do you really want to risk it with all the disasters the world is having these days?
GoWalkabout Travel can assist you with your Travel to Australia and New Zealand. We are going to guide you with all the above and much much more. You are dealing with people who are from these regions and know them very very well! Why would you even want to try and walk blind on your trip and not deal with an expert?
Check out the below link on other blog posts on Travel to Australia and New Zealand
Best time to travel to Australia
Our clients are located right across North America from Toronto, Calgary, Winnipeg, New York, Atlanta, Boston, and more. Please contact us if we can be of any assistance with your plans to travel to Australia and New Zealand.