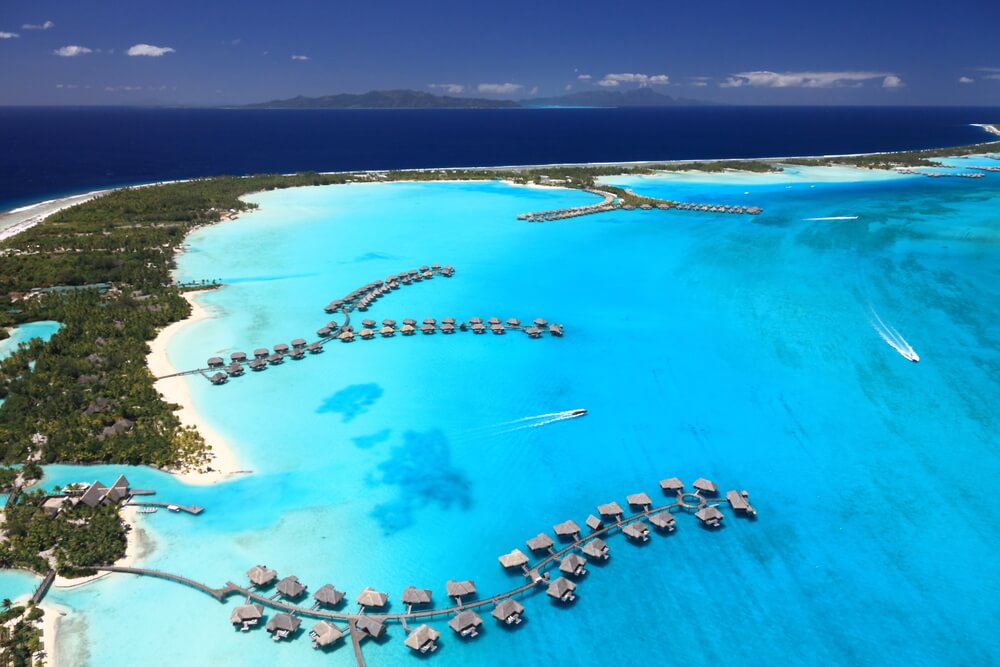 Ia Orana! This is Dianne, here again, to talk to you about everyone's favorite topic — the best overwater bungalows in the South Pacific Islands! In my last blog post, I gave an introduction to what they are, how long to stay, what to do, and where to go. This time, I'm letting you in on a little secret. Want to know which overwater bungalows offer the world's best experience sleeping in anyone of the huts over the ocean? Read on to find out!
What Makes a Great Overwater Bungalow?
When I think of the South Pacific Islands I see coral gardens, thatched roofs, and gorgeous water just screaming at me to come float for hours.
There are several factors that I kept in mind when considering my favorite overwater bungalows. To be considered one of the best, they had to be truly "over the water." That means the entire bungalow must be suspended on stilts in the water, not with the back of the bungalow touching land.
Next, preferences went to bungalows that maximized the overwater experience. Having a sun deck out over the water helps, especially those with direct access to the water and a ladder for climbing back up. On that note, I especially love bungalows in deep water, because there's nothing like being able to jump in right from your private deck!
All over the bungalows on this list are at a minimum three-star standard. These are places that not only would I feel comfortable staying in them myself, I would also send my clients to them. The truly luxurious properties are where the most spectacular overwater bungalows can be found.
Special bonus points went to places with something unique and creative about them. Some have freshwater plunge pools in the deck, suspended over the water. Talk about the ultimate in pampering! You'll also find overwater bungalows with the best views of land and sea, both out over the water and down below… coral and fish swimming below the bungalow, rather than just sand, get top marks.
What are the best all-inclusive Overwater Bungalows in Fiji? 
Fiji has about fifteen overwater bungalows. Ten of them are in the Mamanuca Islands, at a five-star luxury resort called LikuLiku Lagoon Resort. Romantic and adults-only, this all-inclusive resort is among the best in Fiji. The overwater bungalows are in shallow water over a tidal, sandy area. So at low tide, most of the water under the Fiji bungalow disappears. LikuLiku still gets a mention though, for being a top-notch property that offers the most authentic overwater bungalow experience in Fiji. It's ideal for romantics who want a small resort because, with just 45 total rooms, each guest receives personalized service. You won't find resorts that small with such luxury in other South Pacific islands.
Other resorts in Fiji with huts on the water include Laucala, which is even more luxurious than LikuLiku and has one overwater villa just offshore. Another is Koro Sun, which is in a more affordable price range and floats its water bures on pontoons just off a rocky coastline.
What are the best all-inclusive Overwater Bungalow resorts in Samoa, Vanuatu, New Caledonia?
Coconuts Beach Club is the only property in Samoa with overwater bungalows (which they refer to as 'over-the-water fales',) and they sit on stilts all the way in the water, all along a dock. Samoa tends to be more rustic and remote, and these bungalows are no exception.
Vanuatu has two adjacent resorts with overwater bungalows. The Holiday Inn Resort has ten, and next door, the Warwick Le Lagon Resort has four. These bungalows are just barely offshore, in waters that can be a bit shallow for jumping into. However, they could be ideal for adventurous families who want large resorts with lots to do in a remote less-touristed island location. 
New Caledonia has twenty-five overwater bungalows at L'Escapade Island Resort Noumea. These overwater bungalows are fully in the water and a bit more spacious than those in Vanuatu or Samoa, and in a quiet setting off a private island, could be fun for those who want pure relaxation without too much activity. As a destination, New Caledonia tends to have cooler temperatures and service that's not quite up to par with other island nations in the area, like Fiji or French Polynesia.
What are the best Overwater Bungalows in the Cook Islands?
The Cook Islands has an Adults Only beautiful, barefoot-luxury overwater bungalow resort on the island of Aitutaki called Aitutaki Lagoon Resort. The views from these bungalows are excellent, gazing over the impossibly turquoise and sandy-bottomed Aitutaki Lagoon. However, the back of each bungalow sits on land, and only the front has stilts in the water. Fortunately, the seafloor dips away rather steeply right here, so you still get some deep water for exploring right off the deck. Aitutaki is beachy, sandy, and quiet, a great spot for adults only to spend some quiet days just relaxing by the sand. 
What are the best Overwater Bungalow Resorts in French Polynesia?
Okay, here's where things get really good. For those who want the epitome of overwater bungalow experience, they should look no further than staying in a Tahitian bungalow. You'll find the best overwater bungalows in this island nation. You might have heard this country called "Tahiti," or the "Society Islands"  although Tahiti is just one of many islands that also include Bora Bora, Moorea, Taha'a, Tetiaroa, and Huahine, to name a few.
The island of Tahiti isn't the best for overwater bungalows, despite its fame. More of a jumping-off point for other islands in French Polynesia, Tahiti's overwater bungalows are smaller, closer to shore, and lack some of the other bells and whistles of those on other islands they are also generally more affordable overwater bungalows than in Bora Bora.
There are two Tahiti resorts with overwater bungalows of solid four-star quality. Go to the InterContinental Tahiti for closer airport access and slightly deeper water. They're a large resort with more than thirty overwater bungalows and 250 total rooms. Head to Le Meridién Tahiti, with a dozen overwater bungalows and 150 total rooms, for a bit more seclusion and more space. Both resorts have coral underneath the bungalows, making for more entertaining viewing than if they just had sand, but both tend to have fairly shallow waters that make it harder to jump right in.
The closest island to Tahiti is Moorea, and this is where overwater bungalows really start to get good. The overwater bungalow was actually invented here. Although there are four resorts at least at a three-star level with water bungalows here, we have two favorites. The first is best for those who want a more authentic Polynesian feel at a smaller resort with fewer than 100 rooms and 30 overwater bungalows, and also with a more affordable price: the Manava Beach Resort & Spa Moorea. Since kids (up to a certain age) stay and eat free here, it's very popular with returning family guests. All of their overwater bungalows are the same size and layout, but we think it's worth the cost to stay in one of the "Premium" Overwater Bungalows, because they're situated towards the edge of the resort, allowing for deep, safe water that you can jump into directly from the private deck. There is plenty of coral underneath too, so you can watch the fish through the glass floor in your living room. Deepwater, entertaining coral and fish, and a high standard of quality and authenticity make Manava Beach Resort & Spa Moorea one of our favorites for a water bungalow stay.
Our other favorite on Moorea is the Hilton Moorea Lagoon Resort. The most luxurious resort on Moorea at about a four-star level, this resort has a little over 100 rooms with half of them overwater bungalows. The Hilton's overwater bungalows are larger than those at Manava with about 670 square feet (62 square meters) and our favorites are the Premium Panoramic Overwater Bungalows. Situated at the end of the dock, facing the horizon, you'll have unobstructed views and the deepest water of all the bungalows at the Hilton, but still with enough coral to keep you entertained through the glass viewing panel in the floor. This resort tends to be a little more popular with romantic couples than the Manava, thanks in part to its quieter location, but still allows children and offers them tons to do.
Moving right along, we get to a unique resort, Le Taha'a on the island of Taha'a in French Polynesia. A short flight from Tahiti and with views of Bora Bora in the distance, Le Taha'a is the only resort on this remote island so it offers seclusion and plenty of peace and quiet. It's more luxurious than what you usually find on Moorea, at close to a five-star level, and we love it for feeling authentically Polynesian and being a boutique size with only about sixty rooms.
The overwater bungalows at Le Taha'a are bigger than those on Moorea and Tahiti too, at about 1100 square feet — you could live there! Like at other resorts, the overwater bungalows differ only in view. Our favorites are the ones that can see Bora Bora, and also those at the end of the pontoon with views back towards the island of Taha'a. These two-room types offer the most privacy, with stunning views and perched way, way out in the water. Do keep in mind that the seafloor tends to be mostly sand here, which makes for great swimming but you won't see as much fish through the glass panel on your floor.
What are the best Water Bungalow Resorts in Bora Bora?
Finally, we reach Bora Bora. World-famous for having top-notch luxury and lots and lots of overwater bungalows. Bora Bora stands at the top of this list for an overwater bungalow vacation. The geography of Bora Bora makes it the best place in the South Pacific to build overwater bungalows. There's an extinct volcano in the center of the island, surrounded by a huge lagoon. Creating the lagoon, keeping it safe, sandy, and shallow, are a ring of tiny coral islands called motus. These motus protect the water between them and the volcanic mountain, creating the perfect conditions for the Tahitian Bora Bora huts on water bungalows to be built with minimal risk of strong waves and weather. 
Some resorts are on the main central island around the extinct volcano, including several overwater bungalows. However, the resorts with the best views, the most space, and the most bells and whistles are on motus that face back towards the lagoon and volcano.
Are any Bora Bora Overwater Bungalows All Inclusive?
While all-inclusive bungalow resorts are very rare in Bora Bora there are meal plans that can be purchased with half board or full board inclusions at many resorts when staying at an overwater bungalow resort.
Out on the motus, there are lots of four and five-star resorts, but we have two favorites — both of which occupy our number one spot of Best Overwater Bungalow in the South Pacific, possibly the world!
The Four Seasons Resort Bora Bora really takes the overwater island bungalow to heart, with about one hundred overwater bungalows from a total of 120 rooms. The best of the best are the four Otemanu Overwater Bungalow Suites with Plunge Pool. Yes, not only do you get a stunning view of the volcanic crater of Mt. Otemanu, but you also get your own private plunge pool on the deck! These pools have an "infinity" edge, so it looks as though the edge of the pool merges with the watery horizon.
At over 1,500 square feet (147 square meters), these bungalows at the Four Seasons are more like villas. Anything you want, whether it's direct access into the lagoon, private sun deck, glass panel in the floor, great views, or privacy, it's all here. The resort caters well to romantics and to children, being very popular with honeymooners as well as having a complimentary kids' club and a unique on-site snorkeling lagoon to keep everyone entertained.
Our other favorite overwater bungalows in the South Pacific are at the St. Regis Bora Bora. The best of the best there is the two-bedroom Overwater Royal Otemanu Villas with Pool. At a whopping 3500 square feet (321 square meters), there's plenty of space for two bedrooms and two bathrooms, separate private terraces for each bedroom, direct access into the lagoon, and the highlight — the largest suspended pool over the Bora Bora lagoon at 20 feet by 16 feet (6 meters by 4 meters), and with an infinity edge. Of course, to make it to the top of our list, it also has to have great views. So yes, it does have a prized view towards Mt. Otemanu, a requirement for any top Bora Bora overwater bungalow. You can even dine in a private gazebo outside your bedroom with a view of the mountain in the distance. The St. Regis does allow children, but given its focus on romance and privacy, we think it's best for couples and tend to recommend the Four Seasons more for families.
Most Water Villas have outdoor showers for you to rinse yourself off with after a swim.
Fiji vs Bora Bora:
Both offer such unique experiences, but there are some differences. While Fiji only has a few properties with Overwater Bungalows like Likuliku Resort, it is unique due to tidal movement on reef lagoons. The tides move a lot in Fiji, hence why their coral is so vibrant, so Fiji is not famous for its overwater bungalows. Fiji is best known for its luxury boutique islands that are often truly breathtaking.
Bora Bora is synonymous with the word Overwater Bungalows. Those Wooden huts sitting on stilts are one of the most sought-after tourist destinations in French Polynesia and the whole of the South Pacific. Bora Bora is also more expensive to visit than Fiji!
Both are beautiful destinations to visit, and we can assist you with making the best choice for your needs.
Summary:
The South Pacific is the most popular place in the world to stay in an overwater bungalow. For those looking for the classic overwater experience, the place with the most options is French Polynesia. Its island of Tahiti has a few overwater bungalows, but Moorea, Taha'a, and Bora Bora are far better.
Moorea's overwater bungalows are most likely to have fish and coral directly underneath the bungalow and offer several three and four-star resort options. Le Taha'a and Bora Bora are more likely to have giant villas located far out into a sandy lagoon, with more luxury than can be found on Moorea or Tahiti.
For something a bit more off the beaten path, you could try Fiji, New Caledonia, Vanuatu, Samoa, or The Cook Islands. Just make sure you know what you're getting. If being all the way in the water is important to you, then ensure your bungalow won't have one side sitting on land. If adults-only peace and quiet are important, then ensure your resort doesn't allow kids and offers intimate, personalized service. Whatever it is you want, make sure you ask for it and do your own research about any South Pacific Resorts' overwater you plan to vacation in.
Ready to check out tropical paradise for yourself? Whether you're coming from Phoenix or Winnipeg or in-between, we can assist you with a dream vacation staying in one of the best overwater bungalows in the South Pacific. Contact us to get started planning your trip today!