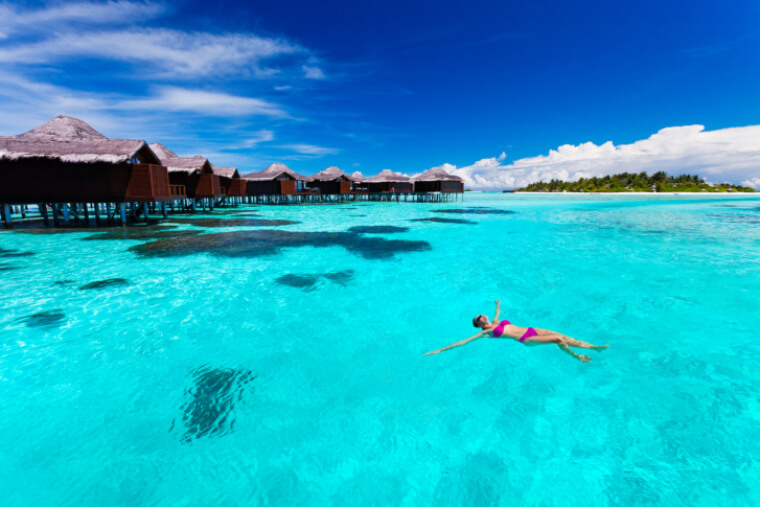 G'day!  Today's post is part one on Overwater Bungalows in the South Pacific… what are overwater bungalows, when is the best time to stay in an overwater bungalow, and much more! We hope you enjoy it!
What is an overwater bungalow?
Over-water bungalow, floating bure, over-water suite… they have a lot of different names, but the concept is still the same. An independent, detached building with just one guest room inside it, standing on stilts in the water. Most of the time, they're arranged on both sides of a long dock that sticks out into the water and connects the bungalows with the land. These are not bungalows on little islands, but rather bungalows on stilts that actually sit in the water. The resort itself may be on its own private island, or there may be other resorts that share the island. However, each over-water bungalow is its own separate unit.
Sometimes, there are several dozen bungalows all lining one dock, and typically the ones all the way at the end of the dock are the most prized (and most expensive) thanks to unobstructed views and privacy. Other times, there are just one or two bungalows side-by-side, sitting just offshore. Or, what some resorts call over-water bungalows are really halfway on land, with only two stilts in the water. However, all of these types of bungalows have one thing in common. Water under your bedroom!
What's it like in an overwater bungalow? 
On land, you might hear tropical birds around your room or the breeze through the trees. But from an over-water bungalow, you hear the gentle lapping of the water. Maybe a few sea birds, and gentle ocean breezes. Sometimes, you hear other guests walking down the dock to their bungalow or hear boats as they travel by.
Most over-water bungalows have a private outdoor deck over the water. Imagine sunbathing without having to compete for room, in the privacy of your own space. If the water is deep and safe enough, your bungalow might even allow you to jump directly into the water from your private deck, coming back up by ladder. Bring a snorkel mask and go exploring, or untie a kayak and head directly out onto the waves!
Most over-water bungalows also have a small glass panel, or several of them, in the floor inside the room. That way, you can watch the fish and coral right from your room without getting wet! Some of the most luxurious resorts even include a private plunge pool on your deck, in case swimming in saltwater isn't your thing. Imagine getting into a pool that's suspended over the water — the ultimate in pampering.
Keep in mind that since you're staying out on the water, you might have a long walk from your bungalow back to the main resort. Large resorts, such as those with over a hundred rooms, may have their over-water bungalows spread far and wide to give as much privacy as possible. But that means longer walks for guests in an over-water bungalow, especially those staying in the premier bungalows at the end of each dock. Maybe, instead of walking to the restaurant, you might decide to order room service… In that case, they could deliver your meal by canoe!
 Over-water bungalows are most commonly found in the South Pacific, especially in French Polynesia which includes the islands of Tahiti, Moorea, and Bora Bora. You can also find a few in other South Pacific nations, such as Fiji, the Cook Islands, New Caledonia, Samoa, and Vanuatu. They are also popular in the Maldives, and there is a handful in Honduras.
You can build over-water bungalows anywhere with calm waters that won't destroy the room with waves. They need to be built in a protected area, where the elements won't wear them down too quickly. The best locations have deep blue water teeming with fish and coral, which provide entertainment without you getting wet! Others tend to have very shallow water with a sandy bottom.
To reach a resort with over-water bungalows, typically you fly to an island nation's main international airport and then connect by small aircraft or boat to a resort. A couple of places, like Tahiti, have an international airport directly on the same island as the overwater bungalows, meaning you don't have to catch another flight or take a boat after you land. However, these tend to be a bit less scenic and spacious than the bungalows farther afield.
Best time to go and stay in an Overwater Bungalow
Weather patterns vary around the South Pacific, with some nations experiencing a greater risk of heavy rain and cyclones during the wet season than others. But generally speaking, there are a few guidelines you can follow.
Much of the South Pacific has a wet season from around November through March, which is also cyclone season. This doesn't usually mean heavy rain all day every day, but rather a short burst at the same time each day with the rest of the day clear.
Cyclone season is like hurricane season in the Caribbean, meaning that while cyclones aren't common, they do happen, and by traveling between November and March, you do run the risk of having a cyclone ruin your holiday. If you must travel during this time, then head to one of the nations that is less likely to have cyclones, like French Polynesia.
By far, we recommend not traveling over Christmas and New Year's. Despite being the rainy season, this is still the most popular time for people to travel, and resorts fill quickly. They also charge the highest rates at this time of year and may have other restrictions like long minimum stays, or mandatory holiday meals that all guests must pay for and participate in.
The best time to stay in an over-water bungalow is usually between May and October. This is the driest time of year and doesn't usually experience cyclones in the South Pacific. Temperatures can be a bit cooler, though are still summery and warm, not hot and humid like the wet season.
One great thing about tropical islands in the South Pacific is that their cyclone season is at the opposite time of year as the Caribbean's hurricane season. So if you want a beachy holiday during the Caribbean's hurricane season, then maybe you should consider the South Pacific and enjoy one of their over-water bungalows!
How long to stay in an Overwater Bungalow 
You can often find better rates by staying longer, like five to seven nights. Many resorts offer one or two free nights for longer stays. You can also get an "early bird" discount at some places, especially in French Polynesia, if you book at least three months in advance (though of course, we always recommend booking much earlier than that to get the best availability!)
The minimum we'd recommend is three nights at any one resort, with at least two nights in an over-water bungalow. Since over-water bungalows are expensive, for many clients we recommend splitting your stay between two different room types. This is especially handy for longer stays of at least five nights. Spend the first few nights on land, and then upgrade to an over-water bungalow at the end of your stay. That way, you save some funds and still get to experience the uniqueness of sleeping over the water!
For those traveling for over a week, we think it's actually best to combine room types. Staying for over a week in an over-water bungalow can get a bit tiring, believe it or not. We've actually had clients who asked to move after a week because they no longer wanted to hear the waves lap against the stilts underneath their bungalow night after night. Maybe you'd prefer to stay in a beach or garden bungalow part of the time.
Another great way to experience an over-water bungalow is to combine two different destinations, not just two different room categories. That means you have a more diverse experience and see more different things around the region. The easiest way to do this is to stay on two different islands in one country like French Polynesia — consider combining Moorea and Bora Bora.
Or in the Cook Islands, stay on the island of Rarotonga in a room on land, then fly to the island of Aitutaki to stay in an over-water bungalow for a few nights and get two very different impressions of the country.
In Fiji, you could start by staying in a villa in the jungly, remote northern part of the country with great diving, and then head over to the Mamanuca Islands for an over-water bungalow in relaxing luxury. In other words, start with lots of activities and end with upscale relaxation.
What to do when staying in an Overwater Bungalow
You may think that the only thing you'll ever want to do in an over-water bungalow is lay on your private deck and listen to the waves. You might be right. But for those who want a little more action, there is more to do. However, keep in mind that most resorts with over-water bungalows are in remote areas far from cities or lots of action, so in general they tend to be more relaxing, quiet, and low-key.
When there are overwater bungalows, there are calm waters. That means that watersports are popular. Kayaking, canoeing, stand-up paddleboarding, snorkeling, diving, sailing, cruising, swimming, even kite surfing, and parasailing can be found at some over-water bungalow resorts. Depending on the location, there is usually something unique that can also be found nearby, such as swimming with local marine life (rays, fish, non-dangerous sharks) or having a picnic on a nearby deserted island.
On land, the most popular activities tend to be dining and enjoying the spa. However, depending on where you are, there could be mountain hikes, waterfalls, cultural tours to local villages, educational talks about local flora and fauna, lessons on making local handicrafts, or horseback riding. When planning your trip, make sure you tell your travel agent what activities you wish to have so that you book the right place and aren't surprised by what you find.
Are kids allowed at overwater resorts?
If you have kids, then the best place for you to go is definitely French Polynesia, including the islands of Tahiti, Moorea, and Bora Bora. Here, you'll find kid-friendly resorts with lots to keep the little ones entertained. Many other resorts in the South Pacific that have over-water bungalows allow only adults and focus more on romance.
Over-water bungalows can be a lot of fun for kids, especially when they get to watch the fish through the glass in the floor, or jump right off the deck into the water. Just keep in mind your child's age, and how easily they can reach the water. Maybe you'd prefer a bungalow without a deck so that your child doesn't risk falling in. Or maybe your child can handle a deck, but you want to be close to shore so that you don't have to walk so far to the kid's club. Whatever it is, make sure to tell your travel agent so that they can find the right over-water bungalow for you.
Romance 
For many, the idea of an over-water bungalow is extremely romantic. One bungalow just for you and your honey, with a majestic view of the ocean. It's true, over-water bungalows tend to be most popular with honeymooners and couples celebrating a wedding anniversary. In fact, they're so popular, that most over-water bungalows are filled by romantic couples. Keep this in mind as you plan your trip, because since you won't be unique, you may not get any special treatment. This is especially the case in French Polynesia, including the islands of Tahiti, Moorea, and Bora Bora, which are hugely popular with honeymooners.
Also, keep in mind that while you may feel like the only people on earth while you're in your over-water bungalow, there are other bungalows just around the corner. You'll be walking past them as you walk down the dock from your room to the main area of the resort. So, it might not be as secluded as a bungalow tucked away in the trees, hidden somewhere quiet on land.
Want to know what are the best over-water bungalows in the South Pacific? Stay tuned for another blog post! We've already got one in the works.
Whether you're coming from Boston or Winnipeg or points in between, we've got you covered for your trip to the South Pacific. Contact us to start planning your luxury vacation in Fiji, The Cook Islands, or a Tahiti overwater bungalow!
As promised I have written a Part two on the Best Overwater Bungalows in the South Pacific Islands