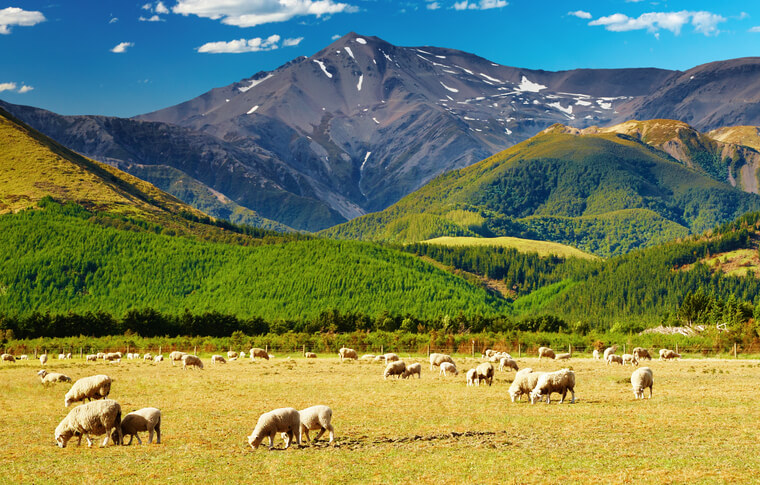 G'day, folks! Dianne from Go WalkAbout Travel here, your travel expert for Australia, New Zealand, and the South Pacific. I'm here today to tell you all about the luxury lodges of New Zealand. Many of you ask me about them, wondering if they're worth the cost and what makes them different from other places. Well, I'm here to answer those questions!
What are luxury lodges in New Zealand?
To be considered a luxury lodge in New Zealand, a property must offer a very high standard of hospitality. These places provide outstanding comfort, service, and style in a premier location.
However, each one is unique. Some luxury lodges are coastal villas, some are remote cabins, some are charming historic estates, some are mountain chalets, some are working farms, and still others feel more like a fishing lodge. None of them are part of any recognizable international hotel chains. They are independent, small, and mainly in the countryside.
After all, most folks go to New Zealand for the scenery, so if you're going to spend time and money on the best experiences in New Zealand, you're probably going to want to be out in nature!
You should note that there isn't one official list of luxury lodges in New Zealand. What may be considered a "luxury lodge" depends partly on inclusion in a group of properties that joined together to market themselves as exceptional and partly on individual opinion.
If you've heard of a place being a "luxury lodge," ask your travel agent what they know about it. Sometimes a property may call itself a luxury lodge, but they aren't up to the standard of others, so make sure to ask for a travel specialist's opinion and get as much information as you can.
What do the luxury lodges of New Zealand offer?
The one consistent thing between all the luxury lodges is that they must emphasize their location, both in New Zealand and the world. The design of the lodging and its decor, the selection and training of the staff, the activities on offer, the food and wine they serve, nearly everything is intended to immerse the guest in their local environment. You won't find a lodge that feels like it could be in Florida or the Swiss Alps. It's all about immersion in what makes New Zealand New Zealand.
Since they emphasize their location, no two are the same. One may offer a sheep shearing experience on the farm, while another encourages guests to try deep-sea fishing. There's a significant emphasis on local history, flora and fauna, scenery, and building materials. The ones with guides on staff make sure to hire top experts in their field. Many lodges grow their food, emphasizing local, fresh ingredients paired with New Zealand wines (and some even have their own vineyards).
In terms of hospitality and service, the lodges are on par with the best in the world. We sometimes say that they set the bar for luxury accommodations worldwide. You'd be hard-pressed to find better dining, guiding, and service anywhere. These folks will bend over backward and cater to any reasonable request.
At the same time, since this is New Zealand, the style of these lodges is surprisingly casual. For the most part, if you feel like wearing jeans and hiking boots to dinner, then you can. The staff member who brings you an extra pillow could very well be the lodge owner. There aren't likely to be any occasions that require high heels or diamond jewelry. In keeping with New Zealand culture, there is a feeling of humility and equality. You might go horseback riding with the CEO of a major corporation and never realize it because you're both treated equally and with the same style of down-to-earth individualized service.
A few examples of Luxury Lodges in New Zealand:
While this list isn't exhaustive, it should give you an idea of the types of luxury lodges in New Zealand.
Blanket Bay Luxury Lodge:
Blanket Bay, located about 45 minutes from Queenstown, is nestled in the Southern Alps and situated right on Lake Wakatipu. It has a main lodge with guest rooms and separate chalets. Due to its remote location, like many of New Zealand's luxury lodges, Blanket Bay includes breakfast and gourmet multi-course dinners in their rate and most activities. Dinners are held around a large table for guests to mingle and share how they spent the day. When you stay at Blanket Bay, a helicopter can pick you up directly from their lawn and take you straight to Milford Sound — indeed a spectacular way to travel!
Poronui Luxury Lodge, New Zealand:
Poronui Lodge is another luxury lodge; this property is located about 40 minutes from Taupo in the center of the North Island. It sits on 16,000 acres of private land, allowing the property to create a unique menu of activities without even leaving the property. Here, you can try hiking, mountain biking, horseback riding, fishing, private Maori cultural experiences, and even a luxury small safari tent in the wilderness for the ultimate in privacy, peace, and quiet. Other overnight options include rooms in the main lodge or staying in your own two-bedroom house with no other guests.
Eagles Nest Luxury Lodge:
Eagles Nest offers contemporary style in the far northern end of New Zealand, perched above the beachy, sunny Bay of Islands. Here, there's no main lodge. Instead, Eagles Nest offers five self-contained villas where you stay separated from other guests. With a full staff, you won't want for anything. They offer personal trainers, massage therapists, and, maybe most important, private chefs who can cook up local fish in your kitchen and serve it with a glass of superb New Zealand wine from the property's wine cellar.
Kids and families:
While the lodges do cater best to adults, children are often allowed. Families will feel incredibly comfortable at properties with separate multi-bedroom cabins or villas that they can rent out exclusively, like at Poronui or Matakauri.
A few lodges allow kids of all ages and cater to them well. Others ask that guests be at least 10 or 12 years old, depending on how well they suit younger generations. If you're traveling with kids, make sure that the places you stay know the ages of your children and what sorts of activities they enjoy. That way, they will be well prepared to give your kids the time of their lives! 
Is it worth staying at a Luxury Lodge in New Zealand? 
Although cost seems high, if you were to itemize the value of the rooms, meals, activities, top-notch staff, and design, then you'd see that the experience of staying in a luxury lodge is truly a great value. Nowhere else can you get such a well-rounded experience in one place, and it's tough to put an accurate value on experience.
We say that it's worth splurging at least once on your trip. Perhaps your budget doesn't allow you to stay in these lodges the entire time, but you can indulge yourself for the last couple of nights as a treat before the flight home. We can guarantee that your experience at a luxury lodge will be a highlight of your stay in New Zealand.
Just make sure to book early because these lodges are small and fill up quickly. You don't want to plan your trip around a particular experience, only to find that it's no longer available when you want to go.
A final tip:
Stay at least three nights in each lodge, if you can! Longer stays allow you time to relax in your environment and truly feel where you're staying. Once you arrive and find out all the well-rounded activities and experiences at each of these lodges, you may never want to leave!
At Go Walkabout Travel, we are experts in New Zealand luxury lodges and can recommend specific ones that are best suited to your interests. Contact us to get started on planning your vacation to New Zealand!