I am often asked by Canadians and Americans when is the best time to travel to Australia from Canada or when is the best time to go to Australia from the USA for our Australia Vacation.
Because we have so many different regions, it is hard to balance them out and have that perfect weather trip. Just like the rest of the planet, it is often hard to even predict the weather these days!
Here are some of my tips on when the best time to visit Australia is no matter if you are from Canada or America!
Australian Weather Seasons:
Our seasons in Australia are not only opposite to Canada and the USA, but they start on the 01st of the month!
Summer: 01st Dec – 28th Feb (29th)
Fall: 01 March- 31st May.
Winter: 01 Jun- 31 Aug
Spring: 01 Sept- 30 Nov.
** You will notice that our Christmas falls right in our Summer. Remember it is nothing for us to feel a 40c/104F day in Nov or April.
Different Regions of Australia:
Australia is very close to being the same size as mainland USA, so this means our weather does vary over different regions. The following is a list of areas and what I deem as the best time to travel to them and be mindful of when planning your trip to Australia.
Melbourne- Sydney- Adelaide.
The best time to travel to Melbourne, Sydney, and the Adelaide region is outside of the middle of Summer if possible. Sydney is famous for its Summer storms, and Melbourne is a blink for a second, and the weather has changed place. I like to visit these areas in either March/April or Oct/Nov.
Did you know I was born in Sydney? Check out more information about this great city Sydney Australia Expert.
Hobart- Launceston Tasmania.
If you look at a map of Australia you will see that Tasmania is quite south so this means the weather can still feel a tad chilly even if it is Summer for anyone who has traveled out of some warmer weather. I prefer to visit "Tassie" during Dec/Jan/Feb where you have a chance of it being what we would deem as average Summer weather.
Perth Western Australia.
This is my home stomping ground and I am currently writing this article during Summer in Perth. Our weather in this region is pretty up and down. We have had some 40c days but we are also seeing some changes in the weather pattern and are starting to get some storms like Sydney. This being said I like to follow the March/April and Oct/Nov pattern when traveling to this region. If you hit a plus 40c day then you can not enjoy anything.
Check out information on travel to my home city…  Perth Travel Expert.
Brisbane – Gold Coast – Noosa Queensland.
The further north you travel the more humid and tropical-like it gets during the Summer months in Australia. Whilst it is pretty unlikely that these regions will get hit by a cyclone during our Summer months they can often get the remnants of a tropical storm which can make for a very wet and sticky visit. The best time of year to travel to this area is Sep-Nov which is generally the driest time to visit. Avoid Dec-Jan-Feb if at all possible where it is still bearable but only just!
Ayers Rock- Uluru- Alice Springs.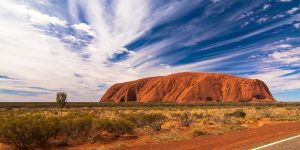 It goes without saying that the big red rock in the middle of Australia would get quite hot during the Summer months. The tour companies operate at sunrise and then mid-afternoon as the middle of the day is just way too hot and heatstroke can hit hard. The Aussie outback is not the type of place where you just go wandering off on your own! Personally, I like to send my clients to Ayers Rock/Uluru for only one night (maximum two nights) it is expensive, and there is only so much to do. The best time to travel to the Australian outback is anytime out of Summer- preferably April- Sept time. It can get a tad chilly in Winter in the evenings, but it is not going to snow! The flies can also be quite annoying in the warmer weather!
Cairns- Port Douglas- Whitsunday Islands- Queensland.
As mentioned the further north you travel in Australia during the Summer months the more tropical it becomes! You will see more mosquitoes and flies and have more tropical storms and a chance of a cyclone. During the Summer months, the Box Jellyfish visit Australia and spend their time right around our northern coastline. While they often have nets up at some beaches and resorts like Hayman Island in the Whitsunday Islands and the Barrier Reef cruise companies usually have "stinger suits" I still advise not swimming at the beaches without one of these on or just sticking to the hotel swimming pool. The best time to visit this area is May-Oct. Heads up the middle of our Winter is the peak season for this region as many Australians who live in Melbourne/Sydney, etc., are trying to escape some of the cold.
Darwin-Broome-Kimberley-Kakadu-Litchfield-Northern Territory.
The top end of Australia has a very set period in which people can travel there. The tour companies close down for the Summer due to the tropical weather and the "wet season" kicking in. When the rain kicks in the Outback of Australia becomes quite inaccessible, and those dirt roads are just not possible to tour on. If you wish to visit this region, then May-June or July-August are your best options.
When are School Holidays in Australia?
The Summer School Holidays in Australia fall from around Mid December through to the end of January. They can fluctuate by a week or so if it is a private or public school or dependent on which State or Territory in Australia. Just like in Canada or the USA when it is the Summer months many Australians take time off from work to spend with their loved ones and do some travel. It is really important if you are visiting Australia that you always book as far ahead as possible and be mindful of events that can make accommodation etc. very hard to access or extra pricey. One of the things we do when designing itineraries for our clients is customize the route and dates around events or conferences that we know may impact our client's vacation or have them spending more for a place to sleep than they should.
When is the best time of year to visit Australia from the USA and Canada?
So now I am sure you are trying to work out how to juggle all of these regions together if you want to visit Australia for an extensive period.
Personally, I say stay with the Sept/Oct/Nov or March/April periods.
An Australia Travel Expert will be able to assist you with the best routing- this way you should hit the areas you wish to visit in the optimum time for weather within the dates you have booked for your trip.
When is the best time of year to travel to Australia and New Zealand from Canada and the USA?
Often our clients like to tour through New Zealand and Australia together. Remember Auckland and Sydney are only approx 3 hours flying time apart. New Zealand being more southern starts feeling Winter way earlier than Australia does. For this reason, it is really important that your Australia and New Zealand Travel Specialists in Canada and the USA design you the best possible routing, so you maximize the weather in each location. For example, if you wanted to visit Australia and New Zealand in Sept/Oct, we would start you at the top of Australia where the Barrier Reef is having its best weather and end you in the South Island of New Zealand whereby October the weather has started to warm up out of Winter.
How do I book an Australia Vacation Package with you?
I hope I have given you some tips on when the best time to travel to Australia is.
If you have any questions, my team and I at Go WalkAbout Travel are always here to assist you with designing an amazing trip to Australia and New Zealand. Our clients are located across Canada, i.e., Toronto, Ottawa, Winnipeg, Edmonton, Regina to the many areas of the USA. We do not need to meet face to face as a lot of our clients like the option of being able to do Skype or Zoom video calls or phone conference calls at times that suit them instead of your typical 9-5 Monday-Friday.
Contact your Australia Travel Specialist
We look forward to hearing from you and saying a huge G'day Mate!
Cheers,
Dianne.
Check out these links for more information from your Australia Travel Experts.
Melbourne Australia Specialist
Whitsunday Islands Australia Travel Specialist