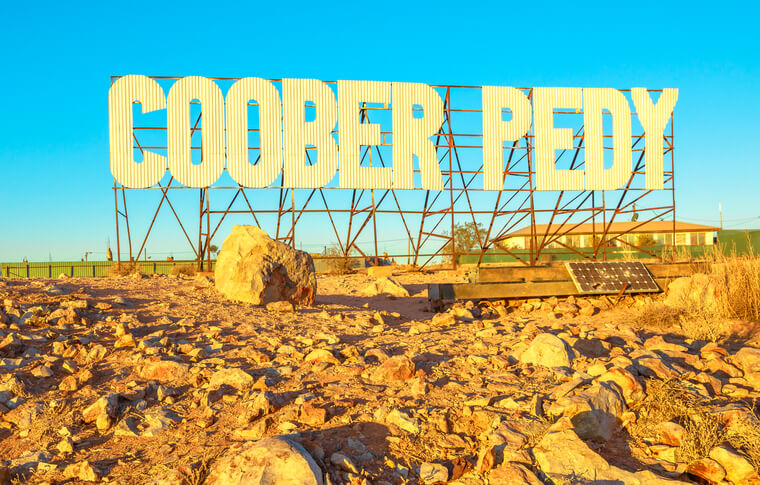 Close your eyes and envision blue sky as far as the eye can see, the fantastic colors of the vast Australian Outback, and you in a 4WD with a pile of mail bouncing along the red dirt roads on an outback adventure in Coober Pedy!
Where is Coober Pedy, South Australia?
Coober Pedy, with a population of around 2500, is located approximately 847kms (526 miles) north and a tad west of Adelaide in South Australia.
How do I get to Coober Pedy?
To travel to Coober Pedy, you can fly from Adelaide, catch The Ghan Train to remote Manguri Train Station, or self-drive. We recommend The Ghan train!
How long should I stay in Coober Pedy?
We suggest staying in Coober Pedy for at least 2-3 nights as there is much to see and do.
Where should I stay when visiting Coober Pedy?
This remote town is famous for its underground houses. It can get scorchingly hot in the Summer in this region so staying in a hotel in an underground room is a great option and a unique experience. Many of our clients who have slept in an underground room have stated they had a great sleep. There is also the option for above-ground rooms for those who may feel a bit claustrophobic.
What is Coober Pedy famous for?
Opals! If you want to go shopping for Opals then here is your place!
What can we do in Coober Pedy?
Besides Opal shopping, you could have an outback adventure in Coober Pedy and go out on the Outback Mail run!
The Outback Mail Run from Coober Pedy:
The Outback mail run is truly a unique experience for anyone that wants to say they have done something different in Australia. If you have a sense of adventure and want your friends to say "where's that?" when you come home from your trip, this is the adventure for you!
This fun experience commences in Coober Pedy.
The Outback mail run is operated approximately twice per week. This adventure is a full-day journey with you traveling over about 600 km (370 miles) of red dirt roads and playing the local mail person for Australia Post.
You will get to see the real Outback when you meet the people who live at the stations and rely on this lifeline to stay connected to the world. Enjoy a cuppa tea with them while learning about their lives, hearing stories from the characters who make the Aussie Outback what it is. Then move on to the next station while looking out the window for Kangaroos and other Australian wildlife.
Where can I travel after I have been to Coober Pedy?
Coober Pedy is an excellent stopover on your way to or from Alice Springs and Ayers Rock/Uluru.  By starting or ending your adventure to Coober Pedy in Adelaide, you can visit the famous Barossa Valley, enjoy some wine, and head to Kangaroo Island to see some of our wildlife!
Contact us now to start booking your Outback Adventure in Coober Pedy, South Australia!