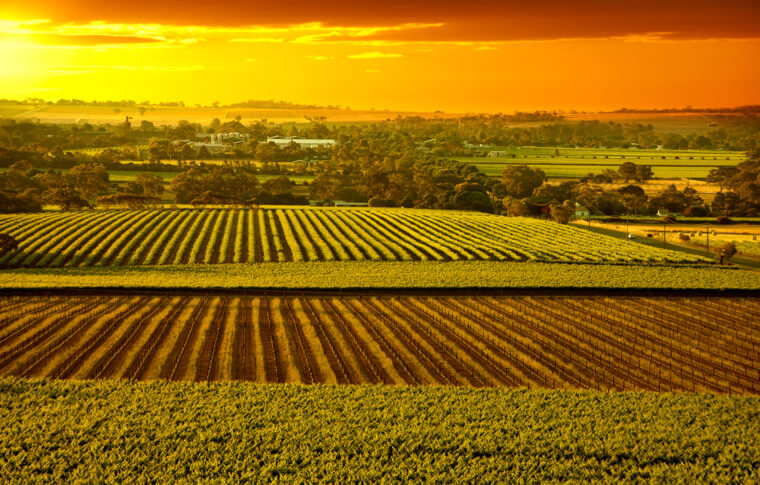 We recently posted a blog about The Best New Zealand Wine Regions, so now it's time to learn about the wine regions in Australia. For many travelers, wine is one of the biggest reasons they visit Australia. Some see several wine regions, while others want one day among the vines. Either way, it's essential to know where the different wine regions are and what they're known for then you can maximize your valuable time by visiting the place that best suits you!
There are over 60 official wine-growing regions in this vast continent, and Australia is world-renowned for the quality and ingenuity of its wines. While some vines were planted as far back as the 1840s, most wineries in Australia began more recently, starting around the 1970s, so the wine scene here is exciting, really pushing the envelope.
You will notice that Australians call Shiraz by a different name, Syrah. Like in New Zealand, you will also find that they often mix different varieties of grapes in one bottle — Cabernet Sauvignon Merlot is a popular one. And like New Zealand, they shorten wine names in conversation. So Cabernet Sauvignon becomes "Cab Sav," for example.
This blog will explain the most prestigious and convenient wine regions in Australia for visitors. We'll walk through these regions one by one, organized by state. We hope you enjoy this tour of the best wine regions in Australia!
The Best South Australia Wine Regions:
If you're looking for a fantastic wine touring experience in Australia, South Australia, with its capital city of Adelaide, is the place to be. Kangaroo Island is also a must-visit destination for wildlife and foodie enthusiasts. And if you're up for some adventure, exploring the Outback in the Flinders Ranges or Coober Pedy is a great idea. Our suggestion is to spend one or two days exploring the wineries, a couple of days on Kangaroo Island, and a few days in the Outback to get the most out of your South Australia trip.
The main wine regions are centered right around Adelaide because you can reach the Outback within a few hours' drive where the climate is too dry to support viticulture. As you travel north from Adelaide through wine country, the weather gets more warm and dry, so red wines tend to get more full-bodied and robust. That means that if you love strong red wines, this is the place to be.
The Best Wine Regions north of Adelaide:
The Barossa Valley Wine Region
An hour's drive north of Adelaide, Barossa is Australia's wine production star. Historical and well-established vines date back to the 1840s, while a new wave of exciting winemakers is setting up shop and challenging the old established ways. Barossa is practically synonymous with Syrah, and half the grape varieties grown here are Syrah. Other excellent varieties include Grenache, Riesling, and Semillon. We recommend spending one or two nights in the Barossa Valley for keen wine tourists, rather than just making a day trip from Adelaide. Some beautiful accommodations here take wine touring to the next level.
The Clare Valley Wine Region
Almost an hour northwest of Barossa, the climate here is drier and warmer, so the reds tend to be even more robust. The Clare Valley produces a lot of Syrah and Cabernet Sauvignon, which love the high-temperature fluctuation between day and night and varied topography in the Clare Valley. However, they're incredibly well known for their dry Rieslings. Folks who have only had European Rieslings will be surprised when they try Australian Riesling. It tastes so different!
Far North / Southern Flinders Ranges Wine Regions
Most wine tourists don't make it this far north since it's about five hours from Adelaide and three hours from the Clare Valley. However, if you're driving to the Flinders Ranges or Wilpena Pound, it's worth stopping at one of the small wineries here en route. Syrah is the main varietal here and is very robust.
Wine Regions south of Adelaide:
The McLaren Vale Wine Region
One of Australia's renowned wine regions, McLaren Vale is situated approximately 45 minutes south of Adelaide and is often compared to Barossa. However, McLaren Vale enjoys a mild and coastal climate, giving it a Mediterranean atmosphere. The region is famous for its red wines, particularly Syrah, Grenache, and Cabernet Sauvignon. A visit to this beautiful region is an easy day trip from Adelaide, but if you prefer to stay overnight, there are several local accommodations available.
Kangaroo Island Wine Region
Come for the wildlife, stay for the food and wine. A short flight from Adelaide or a 90-minute drive through McLaren Vale followed by a ferry, Kangaroo Island is a fascinating place to do wine touring. Chock full of kangaroos, koalas, and other unique Australian wildlife, Kangaroo Island is about the size of Puerto Rico, so it has plenty of space for cultivating vineyards (and cottage industries for various foods as well). The climate here is temperate, maritime, and windy. While Kangaroo Island produces both reds and whites, the most common variety that you will find here is a mixture of Cabernet Sauvignon and Merlot.
Coonawarra Wine Region
Coonawarra may not be on the usual itinerary for international tourists, but it's a must-visit destination for wine lovers in Australia. Located about five hours south-southeast of Adelaide, this region is a perfect stopover if you're driving between Adelaide and Melbourne. If you're closer to Melbourne, you can explore the Great Ocean Road and The Grampians while Adelaide offers some of Australia's finest wine-growing areas, with Coonawarra being the centerpiece. The region boasts a unique terra rossa soil structure, commonly found in Mediterranean wine-growing regions. Cabernet Sauvignon is the most prominent grape variety grown in Coonawarra, often blended with Syrah to produce exceptional wines.
The Best New South Wales Wine Regions: 
New South Wales, whose capital is sparkling Sydney, is probably the most convenient place for most tourists to go wine touring since Sydney is on most itineraries. While this area's wines tend to be less prestigious than other parts of Australia, they're still very high quality with special notes. Plus, due to its proximity to Sydney, there are heaps of expert guides and exciting tour options. We highly recommend carving out a full day for wine touring while you're in Sydney for anyone who likes wine. The scenery in the countryside of New South Wales is stunning, and the wines are flowing!
Hunter Valley Wine Region
The Hunter Valley, Australia's oldest wine-producing area, is a popular tourist destination located about a two-and-a-half hour drive north of Sydney. Despite its popularity, it maintains its rural and authentic charm. While the region is wet and humid by wine-growing standards, it is known for its distinctive Syrah and classic dry white Semillon varietals. Visitors can choose from several excellent accommodations and enjoy a variety of wineries and foodie stops, making it a great destination for more than just a day trip from Sydney.
Central Ranges Wine Region
If you're keen on wine and up for a self-drive adventure, then the Central Ranges in New South Wales should be on your bucket list. Roughly four hours northwest of Sydney, you'll find soft hills around the town of Mudgee, giving way to higher elevations around the city of Orange. The countryside is stunning and off the beaten path, so accommodations are few and far between! The soil here is very fertile, supporting vital agriculture and produce and wines. Top varieties are Syrah, Cabernet Sauvignon (sometimes mixed with Merlot), Chardonnay, and other whites like Sauvignon Blanc, Riesling, and Semillon though the Semillons of the Hunter Valley are more prestigious. One great way to visit here is to do an extended drive through the beautiful countryside of New South Wales, incorporating the Hunter Valley and the Central Ranges over three or four days before heading back to Sydney.
The Best Wine Regions in Victoria Australia: 
The state of Victoria, whose capital is Melbourne, produces more wine than any other state in Australia. Most of it is in the North, though for visitors, you'll find more cellar doors and better infrastructure for tourists closer to Melbourne, so we've focused our attention here. Like in Tasmania, vines were grown here as far back as the mid-1800s, but the industry fell quiet when the gold rush of the late 1880s lured folks away from spending their time and money making wine. The wine industry picked up again around the 1970s, and today, it is winning tons of awards.
Yarra Valley Wine Region
About an hour's drive northeast of Melbourne, the Yarra Valley is the best spot in Victoria for wine touring. Cool temperatures, lots of hills, and varied exposure are found in this area, with Chardonnay, Pinot Noir, Syrah, and Cabernet Sauvignon being the most common varietals. However, every visitor ought to taste the sparkling Pinot Noir and Syrah — yes, even red wines can be sparkling, and the Yarra Valley is one of the best places to find them, along with Tasmania! There are one or two luxurious inns and B&Bs to stay here if you want to extend your wine touring beyond a day trip.
The Mornington Peninsula Wine Region
Between one to two hours directly south of Melbourne and north of Phillip Island, the Mornington Peninsula is a quaint, small-town place that's very popular not just with wine tourists but also with Melburnians on vacation. It has a cool, maritime climate, and its top varietals are Pinot Noir, Chardonnay, and Pinot Gris. The Mornington Peninsula is starting to gain steam and prestige in the wine industry, so you should visit here before everyone else knows about it!
The Best Wine Regions in Tasmania Australia:
This vast island off the southeast coast of Australia is most well known for its wilderness, wildlife, hiking opportunities, and unique mountain/coastal scenery. However, it has a growing wine industry with excellent cool-climate wines that are only starting to reach their potential. Chardonnay and Pinot Noir are the most common, followed by Riesling, Sauvignon Blanc, Pinot Gris, and more of Australia's prestigious sparkling Pinot Noir and sparkling Chardonnay. The conditions in a part of this island are very similar to those in Champagne, France so the sparkling wines are worth writing home about!
The capital is Hobart, located in the Southeast. There are tons of wineries right around Hobart and delicious food touring. Other reasons to visit Hobart include the Museum of Modern Art, the historic penal colony called Port Arthur, and coastal cruises around Bruny Island.
If you're driving from Hobart North, you may wish to stop at a couple of the wineries along the East Coast. Also, of course, you'll want to see the East Coast's gorgeous Freycinet National Park and Wineglass Bay.
Tamar Valley Tasmania Wine Touring
Launceston is the largest town in Tasmania, which makes an excellent base for wine touring. Extending northwest from Launceston is the River Tamar, its scenic Tamar Valley Wine Route. Over thirty wineries here produce some of Tasmania's best wines. Once you finish the Tamar Valley, drive East just a short way to reach the world-famous Barnbougle Dunes and Lost Farm golf courses.
Like Kangaroo Island, Northern Tasmania also has excellent wildlife touring. One of our favorite guides is ready to take you on an immersive wildlife spotting experience that includes a delicious meal of local food and wine out in the bush. Why not get your Australian wildlife and wine tour all in one place or a Golf and Wine Tour!
The Best Western Australia Wine Regions:
Western Australia is farther than many North American tourists go. However, we highly recommend spending time here if you want to know what authentic Australia is all about- plus, this is the area I was raised!
The most prestigious and famous wine regions are right around the Capital City of Perth, in the southern part of Western Australia. (Like in South Australia, the climate gets too extreme farther north to support good viticulture.) Fortunately for visitors, the wine region here is also the foodie region, so all of your tastebuds will love it.
Margaret River Wine Region:
Located about three to four hours' drive south of Perth along the coast, Margaret River is charming, beautiful, lush, and luxurious. There are several places to stay overnight here, some five-star, and we highly recommend staying overnight since the drive is so far from Perth. The Margaret River is best known for its cool-climate Cabernet Sauvignon and Chardonnay and a mixture of Semillon and Sauvignon Blanc.
The Swan River Wine Region Australia:
About thirty minutes outside Perth, the Swan Valley is the most popular wine touring area for day-trippers. Unlike the Margaret River wine region farther south, the climate is warm and dry, supporting Chardonnay, Chenin Blanc, fortified Verdelho, Syrah, and Cabernet Sauvignon. The state's largest producer of wine is located here, and the Swan Valley is almost the only major wine region in the world to be found within thirty minutes of a capital city. Day trips here also often incorporate foodie stops, a wildlife park, or a river cruise as part of the tour.
How do I book a Wine Tour in Australia?
Are you ready to visit one of our many Australian Wine Regions for a glass or a bottle of wine? Whether you come from Boston or Saskatoon or somewhere in between, contact us today to start planning your Australia trip, and remember, do NOT drink drive! You are always best going on a tour not just to keep you safe but because you get the expert knowledge and all the inside secrets of the region.
Cheers,
Dianne.