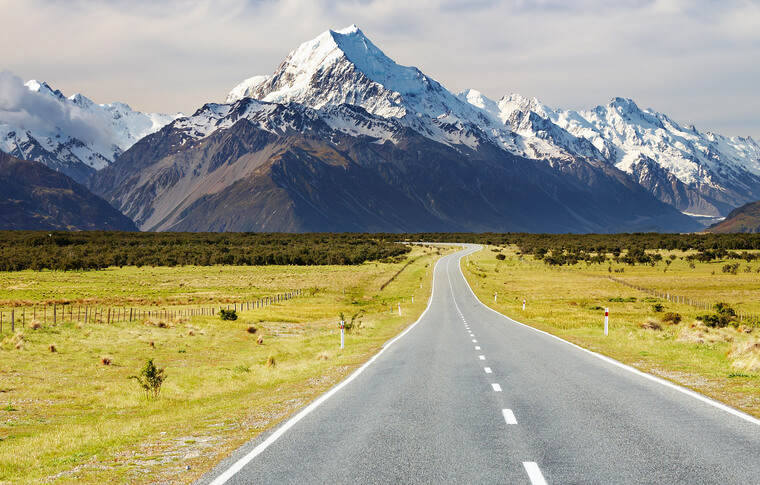 One of the common questions we at Go Walkabout Travel get asked by our clients is whether to self-drive in New Zealand. Once a decision has been made the next decision is whether to travel in a car and stay in a  hotel or with a campervan/motorhome. Here are some pros and cons so you can make an informed decision for yourself about whether to self-drive in New Zealand.
Self Drive in New Zealand: Motorhome/ Campervan: Pros.
You can load up your groceries and cook for yourself.
You know where you will sleep that night.
You have the freedom to roam where you want to.
Unpack your clothes.
Bring your Golf Clubs for a round at one of the Best Golf Courses in New Zealand.
Get to know some locals in the RV grounds.
Motorhome: Cons.
New Zealand is now very picky with its freedom camping. It is recommended that you stay at a Caravan ( RV) Park/ camping ground and these can cost approx NZD 30.00-50.00 per night.
During school holidays or any other busy period, it is tough to get into a Caravan Park/camping ground.
Motorhomes and Campervans are quite bulky, this means it is not as easy to find a parking space in a bigger town or Capital city.
If you plan to do any day tours the tour companies do not do pickup and drop off at Caravan (RV) Parks. This means you need to make your way to a tour pickup place which may mean paying for some expensive parking for the day or public transport.
Besides fuel costs, you may be hit for extras with Motorhome and Campervans to have some creature comforts when picking up the vehicle. i.e camper chairs, tables, etc. These all start to add up.
Motorhomes usually do not have depots right at the airport. This means having to grab a cab to the nearest depot unless the company has a free transfer. They also do not usually have as many depots spread throughout the country if you wish to do a one-way trip.
A tad more nerve-wracking is driving on the other side of the road in a bigger vehicle.
It is a lot harder to drop a Motorhome off at one destination and fly across to the next (i.e North Island to the South Island). This means you have to pay to put the Motorhome on the ferry and this costs money. With a hire car, we can usually drop the hire car off at one point and pick it up at another point, due to there being more hire car depots spread throughout the country. This can save some money!
Can get a tad squishy if there are too many people in the vehicle.
Not much room to move in the shower and toilet. You may also run out of power to operate some equipment if the vehicle is not charged properly.
May be required to do your own mechanical checks every so many km's. i.e oil, water, etc.
The vehicle must be reasonably clean when returned, including any waste or you can be charged.
Motorhome depots are only open set hours, unlike airport pickup/drop-offs for car hire.
It may not include unlimited km's, unlike most major hire car companies. Without unlimited km's cost can start adding up.
Car Hire and Hotel Combinations: Pros.
Smaller Vehicles allow for easier parking in towns.
Tour companies collect from most hotels.
If you book motels or smaller boutique properties they usually include free parking for your car hire in New Zealand.
Less fuel.
Can collect and drop off straight at an airport.
You can book an apartment-type accommodation and have access to a kitchen and a washer and dryer.
You are not on top of each other as in a Motorhome/Campervan.
More options to either cook at home or dine out.
You get to experience some wonderfully unique properties which New Zealand is known for.
Hotels clean your room.
Usually less noise than a campground/caravan park where you could get noisy backpackers.
Car Hire and Hotel Combinations: Cons.
You have to pack your groceries up each time you move on your drive tour and also your luggage.
May need a bigger rental car for more people to fit extra luggage in.
Less freedom to just roam.
Customizing you a vacation to Self Drive in New Zealand
As you can see we are more advocates of the car tour and hotel combination. Whilst we assist our clients with Motorhome/Campervan bookings as well, there are just more benefits with having a hire car from a reputable car rental company for your road trip when you explore New Zealand. GoWalkabout Travel tailor-makes itineraries for our self-drive clients. We assist you with the destinations which suit your interests and the experiences you wish to have. Plus we advise you on the roads, the actual distances and the pros and cons of different areas. Please contact us if you would like to discuss your options to self-drive on your New Zealand holiday.
It is truly recommended that you have a rental car and self-drive in New Zealand on the South Island. Many of the areas on the South Island are not accessible via flights and/or buses do not come through daily, especially on the West Coast. In order to really experience the island, you should self-drive in New Zealand at least during this portion of your vacation so you can visit some of the National Parks.
The North Island self-drive is just as awesome so please consider both! We assist you with mapping your drive itinerary out to make your holiday all flow easily, plus give you advice on International Drivers Licenses and whether you need a credit card when you rent a car to discover New Zealand.
Contact us today for more information on a self-drive holiday package to New Zealand!
Check out this blog post on the beautiful Doubtful and Milford Sounds.