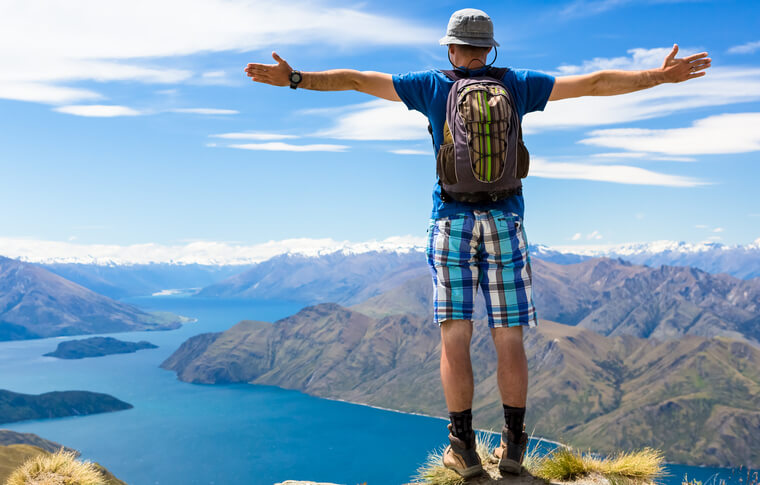 G'day, Dianne here. Most folk who visit New Zealand want to do some hiking, walking or as the Kiwis call it "Tramping"… below I have written about some of the more popular areas of the country to enjoy the fresh air and scenery when tramping and hiking in New Zealand.
Most travelers head to New Zealand for one main reason: the Great Outdoors. There's no argument that the mountains, beach, rainforest, glaciers, fjords, plains, cliffs, and forests make New Zealand beautiful.
Tramping, which is what New Zealanders call hiking, walking, and backpacking, is the unofficial national pastime. Every Kiwi has their favorite tramps, and every town has trails of every shape and size. Even in cities, if you look close enough you'll find nature trails leading off into the bush somewhere.
So you may be asking yourself how best to experience the beauty of New Zealand on foot. You have probably heard of the Great Walks, a series of multi-day hikes located around the country in some of the most beautiful places. However, you may feel intimidated by a multi-day hike, especially one that requires a certain level of fitness and special hiking gear. However, this sort of tramping isn't the only kind to be found.
Many of the Great Walks can be broken into sections for a single day-hike or half-day hike. And as previously stated, you can find trails all over the country, even in cities. So no matter your age, level of fitness, or comfort with being outdoors, there is a hike to suit you.
Here are a few of our favorites for folks who either don't have time or inclination to spend several days on a trail.
Abel Tasman Coast Track 
Located northwest of Nelson on the South Island, Abel Tasman National Park is home to one of New Zealand's Great Walks — the Abel Tasman Coast Track. This hike is one of the least challenging as far as Great Walks go, because the trail is mostly flat, following beaches and bays near sea level.
However, you need not spend several days tramping and hiking in New Zealand to enjoy this track. You can choose to join the Abel Tasman Coast Track midway through by taking a water taxi. Hike for a few hours, and then catch another water taxi back out of the park. Or, combine a day hike with swimming, kayaking, or boat cruising for a few more outdoor experiences.
Those interested in an extended experience inside the park, but still not wishing to do the full five-day hike, can stay overnight in lodges as part of a guided experience.
Milford Track and Routeburn Track
Located outside Queenstown in Fiordland National Park on the west coast of the South Island, these two tracks are in the heart of the Southern Alps of New Zealand. They involve dramatic mountain vistas, lots of elevation change, and some of the most postcard-worthy images of New Zealand. Both are typically done as multi-day hikes, but like others in this list, they contain sections that can be done as single-day options.
Both of these hikes require a guide and special transport if you plan to do a day-hike, rather than the whole thing. Milford Track is more famous and allows a limited number of hikers per day. That means if you want to hike Milford Track, you must book nearly a year in advance. Plus, the first stretch of Milford Track, which is where you'd be hiking if you went on a day trip, is not the most beautiful part. The more scenic bits of Milford Track are a couple of days down the trail.
The Routeburn Track is less touristed than Milford Track, so it allows for more flexible advance booking. Plus, it has much prettier scenery on its one-day hikes than the Milford Track. You should still book far in advance for accommodations and guides though, just to ensure the best possible experience. Stay overnight in Queenstown to do either the Routeburn or the Milford Track. Stay in Te Anau or Milford Sound if you're only interested in the Milford Track.
Tongariro Alpine Crossing 
The Tongariro Crossing is often called the best one-day hike in the world. It covers 19.4 km (12 miles) of alpine terrain, active volcanic craters, wide valleys, and turquoise geothermal lakes in the center of New Zealand's North Island. You'll need at least a moderate level of fitness to complete this one. It takes anywhere from 5-9 hours depending on how quickly you're able to hike. (Tip: We recommend going slowly and enjoying the scenery.)
We highly recommend hiring a guide here, especially if there's a chance of freezing temperatures. In general, summertime is safest so that you can avoid ice or snow at high altitudes. That means traveling here between December and February. But even in summer, a guide can help you access areas you wouldn't see on your own, as well as teach you about flora, fauna, and the history of the area.
Don't let the length of the Tongariro Crossing scare you away. The day walk is worth it for the scenery, which you'll have plenty of time to enjoy as you stop and rest along the trail. Stay nearby at a wilderness lodge, and remember to book transport for the end of the track since it's not a loop.
Queen Charlotte Track
We believe this track is a true hidden gem. It's not as well known as the others on this list, so it tends not to get as much attention. However, that's part of its charm.
If you'd like to try a multi-day hike but aren't excited at the thought of camping every night, then the Queen Charlotte is for you. This is the only multi-day hike in New Zealand where you can hike for up to five days and have a comfortable lodge or B&B accessible to the public for overnight stays along the way.
To mix up a multi-day hike into a few different kinds of activities, the Queen Charlotte Track also offers great mountain biking. Since it follows a ridgeline over the water, you can also add kayaking into the mix. Put your bags on a water taxi for delivery to your next overnight stop, and hike with just a day pack on your back.
Of course, you can also do part of the Queen Charlotte as a day hike, or we wouldn't be including it on this list. Stay overnight in Blenheim, Picton, or along the track itself at a beautiful waterfront lodge in the Marlborough Sounds. Like the Abel Tasman, you can take a water taxi in and out of this track, accessing whichever section most suits your fitness and schedule. Combine a day hike here with another day of wine tasting in Blenheim and cruising on the Marlborough Sounds for a well-rounded experience.
Other Tramping and Hiking in New Zealand suggestions
Not headed to any of the above places, but still want to enjoy tramping in New Zealand? No worries, mate. Just ask around wherever you're headed and you'll get anywhere from five to twenty recommendations from the locals on their favorite nearby wandering spot.
Some of our other favorites: Routeburn Track, Heaphy Track, Tongariro Northern Circuit, Kepler Track, Mount Cook, Stewart Island. There are tramping tracks everywhere in New Zealand!
After all of your tramping and hiking through New Zealand don't forget to visit some vineyards and relax at a Luxury Lodge!
No matter who you are, no trip to New Zealand is complete without spending at least a couple of hours "in the bush" so what are you waiting for? Ask us to help choose your perfect tramping vacation today.